Time is such a simple concept, yet we struggle with managing ourselves efficiently and always seem to be running out of "time"! I, for one can attest to that sentiment with recently having a baby who is now almost two months. I can't get over how fast these almost two months have passed by, time sure does fly! As I'm writing this I've just put Ellie down for her nap and this is the first I've sat down all day! #MomLife. I try to schedule everything around baby E's sleep schedule, but I think parents can all agree that that just never works how we would like it to. So, of course when JORD reached out to me about a collaboration after having browsed their site and thinking of the upside of actually wearing a watch I had to oblige.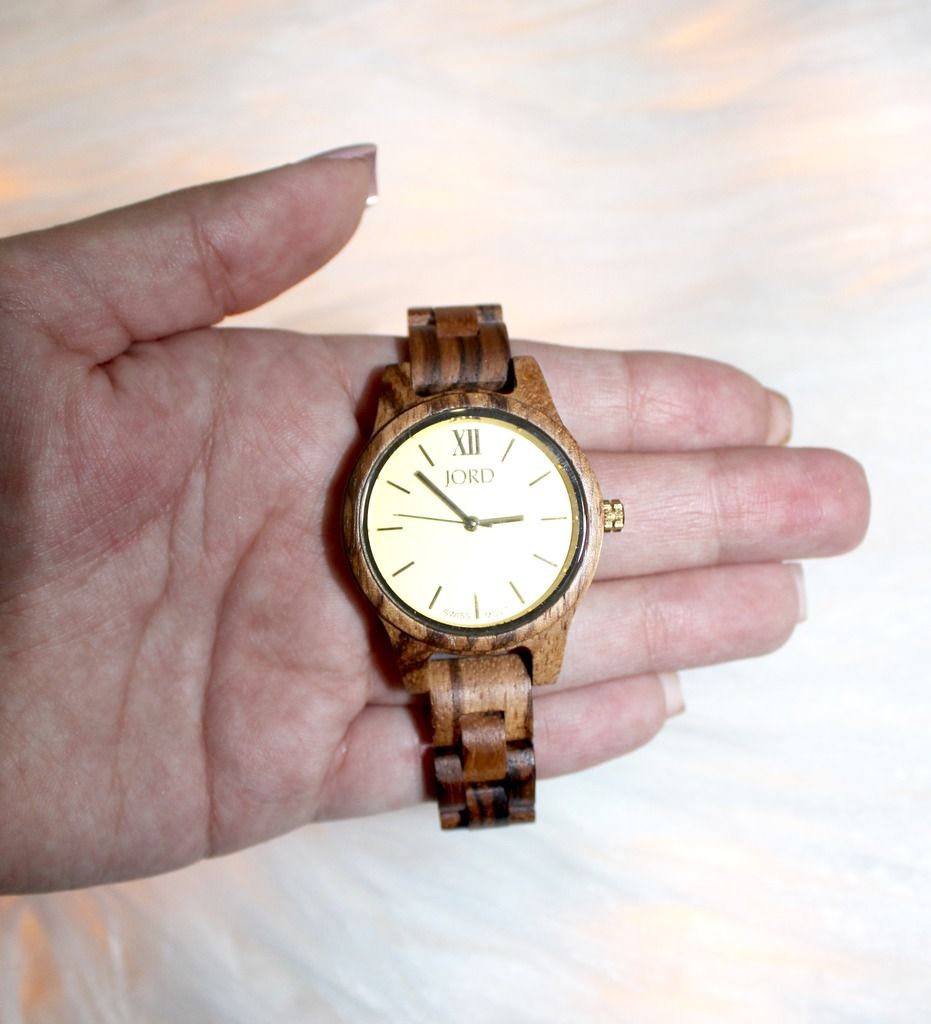 Now, for those tech savvy of us who say "why buy a men's or
women's watch
when you can just check your cell phone" well...for all those times you're unable to have your cell phone at hand. I, for one would rather look at a watch on my wrist during a meeting than to open my cell phone or for when you're holding a baby and can't reach to check the time (even if your baby is a Starbucks caramel macchiato). Honestly having a watch on is so handy and with JORD you're fashion forward doing so.
You see any person who personally knows me knows I'm not the most time efficient person (would love to blame it on being fashionably late...ehh but that's a lie). I will sit down for several minutes to work on something and become easily distracted or allow myself more time than I need yet still not complete the task at hand. I lose track of time and before I know it my day is practically over. However, now with the New Year just around the corner this is my first step in becoming better at managing my time and maintaining my goals. Realistically we all talk about not having enough time in our days rather than focusing on the 24 hours that we all have and using it wisely rather than wasting it and not fulfilling our wants, needs, and obligations. I truly believe a watch can help us become more efficient. Of course I still hold true to the fact that a watch is not only intended for telling time, but also a great fashion staple and can be used to showcase a persons style and personality which is a huge plus. I've compiled a holiday gift guide I'll be sharing soon and this was one of the items on there, I literally love it.
JORD is all about sustainability and handcraft. JORD's watches range from various forms of natural wood including bamboo, zebrawood, and sandalwood amongst others and so the choices are plenty and could work for everyone's taste from the minimalist to the extravagant. After browsing the various faces and woods I had to go with the
zebrawood and champagne
from the Frankie 35 series seeing as the neutrality of the watch will allow me to wear it whenever regardless of my day to day outfit choices. Everything about the watch from the unique face to even the minimalistic, yet stunning detail and variations of wood make this watch a perfect everyday accessory.
JORD was kind enough to even size the watch for me prior to shipping. They even leave you the extra links in case your measurements were off! Another amazing thing is they will engrave the watch of your choice with a personal message and what better way to be a remembrance to someone than with a thoughtful engraving. I had been looking a week prior to getting contacted at getting a
men's wood watch
for my husband and engraving it with our initials and wedding date as a gift. The reason I love this company is because they have a huge set of unique watches that are also unisex. So, if you're still on the hunt for a great gift whether it be for friend, family, or significant other you simply cannot go wrong with a cool watch. Out of curiosity, leave which watch you would choose in the comments below! Don't forget to enter the giveaway below for a gift card ($$) off your purchase! Also, check out my
Pinterest
page for more gift ideas and follow for fun stuff. Also, make sure to subscribe to get constant updates.
Signing off; XOX, R